Search Engine Optimisation in Carlisle, Cumbria and the UK
Get your website found online
Your website can be found using search engines such as Google and Bing. Search engines choose where to display your website in search results based on many factors, of which your website and its contents are only one part of how the choice is made.
The word ranking is commonly used to cover on what page and at what order your website appears:
is it position 1 on page 1, or is it hidden away on page 2 or further back?
Statistically, the top 3 websites in any search results are the ones which get the most clicks, with few people looking beyond page 1. If your business needs to generate sales and enquiries from your website, then making sure you appear in search results for the appropriate search words and phrases is critical.
Search engine optimisation, often referred to as SEO, is the method used to optimise your website to improve the ranking results for your website. A number of key factors can be considered within your website itself (on-site SEO), as well as making sure your overall presence on the Internet is in line with your company and the services it offers (off-site SEO).

Call Chris today on 07880 858381 or send an email to chris@lightbulbwebdesign.co.uk
On-Site SEO in Carlisle
On-site SEO covers anything on or within your website. The areas you can see as a visitor are as important as the areas you cannot see.
The page text itself, image names and 'alt tags', meta descriptions, page headings, browser titles, sufficient use of the correct key words and phrases that you need your website to be found under are all highly important and form the basis of ensuring your website is setup correctly to increase the chances of it being ranked highly on search engines for the desired search terms and words.
Even aspects like the menu structure and use of features such as breadcrumbs (the little 'I am here' trail some websites show at the top of each page to help you know where you are) are additional areas where you can improve your search ranking a little bit more.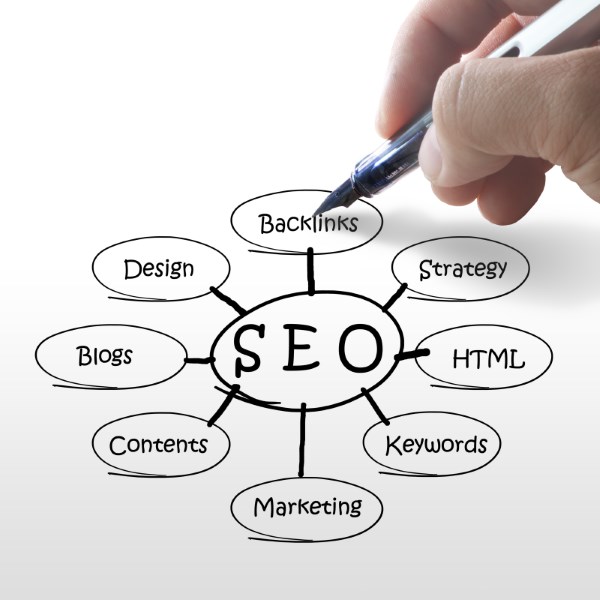 Off-Site SEO in Carlisle
Search engines make use of not only your own website when they choose where to rank you in results, they also check and monitor how active and how much presence your company and website has anywhere else on the Internet.
This includes social media platforms such as Facebook, Twitter, Instagram and many more, where being active as your business, making sure you have correct and accurate details about your company name, address, phone number and services offered is an important aspect of improving your ranking in search results.
On top of social media, making sure your business details and services are listed on appropriate and recognised directory websites such as Yell.com and others is another way of improving your search results.
Our standard SEO features
Part of each and every website design that we create includes a standard level of search engine optimisation.
We will ask you for the search words and phrases you wish to be found from and we build these into every possible area of your new website.
We create unique and appropriate page titles, browser titles, meta data, image names, alt tags and may tweak any page wording you provide to add a little more SEO benefit to as many areas as possible.
The menu and webpage structures are setup to reflect your services and the SEO aspects of this part of your website, and we also create an XML sitemap for your completed web design and submit this to Google the day your website is launched to ensure that you have a head start on getting your new website scanned and ranked by Google.
Depending on your business and the size of your website and its content, this can be sufficient to get some great search results for your business, but with the sheer volume of competitors and other websites on the Internet, you are likely to strongly benefit from an enhanced level of initial and on-going SEO services to make sure your website performs as it should for your business requirements.
SEO can be a complicated and expensive aspect of any website, so we launched a sister company, Newton's Cradle, a holistic website design and SEO company with a track record of delivering results, and one with values and ethics in line with our own.
The SEO packages below highlight the three main areas of search engine optimisation that can be added to any new website design for even better initial results, or used as an on-going service for as long as you choose, ensuring that your website brings in the best results possible.
Standard Plus SEO
Our Standard Plus SEO package offers an in-depth review of the keywords and phrases that are most appropriate for your business.
Professional software and methods are used to identify what are the best keywords and sentences that bring in the most results, as well as looking at those words and phrases which are being used but are not finding results.
We will use the results of this work into your website, using the quantified data, to create the most suitable website structure with the best page wording, meta data, image names and alt-tags, increasing your chances of a higher ranking for your website.
Enhanced SEO
The Enhanced SEO package has been designed to review not only the best keywords and phrases to use on your website, but also to create the most suitable web pages.
Often it seems clear on what pages should be on your website, however often groups of keywords and phrases work better together on the same page to give enhanced search ranking results for your website.
The higher focus on the web page content is built into each area of your website, and if you want an even more enhanced focus, we can provide professional copy writing services to bring further improved results.
Enhanced Plus SEO
The Enhanced Plus SEO package is an ongoing service, addressing both the on-site and off-site aspects of your website SEO.
A number of reports are created to reflect all the web presence and activity that your business has, and then provides both resgular changes to your website itself and also to areas such as business directory websites, reviewing citations and back links, making sure your business is presenting itself in the best possible light for search engines.
This package should be viewed as a longer term approach, suitable for any business who wants to reach the top ranks of search results for local, national or even international search terms. We are also able to provide social media management options to make sure you are getting the absolute best from the Internet for your business.
JUST THE BEGINNING
The SEO services mentioned above are simply a starting point.  They offer an idea of what can be done to really boost your website and business online, whether you want just the initial work or a more focused on-going SEO campaign.
Please get in touch using the form on this page, and let us know how we can help make sure your website is performing at its best.
If you'd rather speak to someone in person, call Chris on 07880 858381 for more information and details on how we can really help your business thrive.